Overview
Sectors Catering & Hospitality
Company Description
About Us
Ashford Castle, County Mayo, recently awarded AA Hotel of the Year 2017 -AA Hospitality Awards 2017 Ireland. Beautiful 5 star Hotel in the West of Ireland with exceptional and unrivalled standards combined with newly installed state of the art equipment, technology and facilities.
Committed to providing exceptional service to our Employees and Guests, focusing on providing opportunities for long-term career prospects with tailored training & development programmes. Investing in your future promising to assist you in reaching your full career potential.
We are a member of The Red Carnation Hotel Collection and The Leading Hotels of the World and is recognised as number 3 of the Sunday Times Top 100 Best Companies to Work For 2016.
The Spa at Ashford Castle is our most recent development to our Ashford Castle family. Recently Awarded Best Hotel Spa in Ireland by the World Spa Awards. Our Team continuously exceed standards in service, training and performance.
The Lodge at Ashford Castle is our 4 star Boutique Hotel on the Estate. Voted Best Fine Dining Restaurant in Connacht 2017 and Exclusive Wedding Venue of the Year. Our Team at The Lodge at Ashford Castle are passionate and hardworking, always welcoming to our guests and new team members.
Our Values
We value personalities and a positive 'can-do' attitude over anything else, and full personal training is provided each step of the way to help you achieve your career goals. We pride ourselves on the fact that staff and guests alike are welcomed and treated like part of the RCH family; with encouragement and support from colleagues and Management to help guide you to success.
We are looking for friendly and motivated candidates looking to progress in their career in hospitality.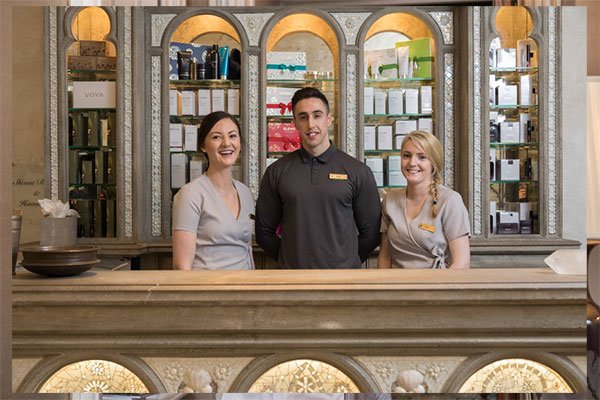 Employee Benefits
Some of the Benefits available to our team:
Complimentary meals on duty
Discounted rates with Red Carnation Hotel Collection & The Travel Corporation
Uniforms and dry cleaning service provided free of charge
Discounted rates with many local businesses and third party service providers (including Estate Activities)
Heavily subsidized accommodation (subject to availability) New state of the art building investment for employee live in and wellbeing on the estate
Professional training and development opportunities (56 in-house courses to avail of)
Our positions have excellent progression opportunities within renowned Red Carnation Hotel Collection, a company providing the perfect opportunity to those who are looking for an exciting career and job security within the Hotel industry.